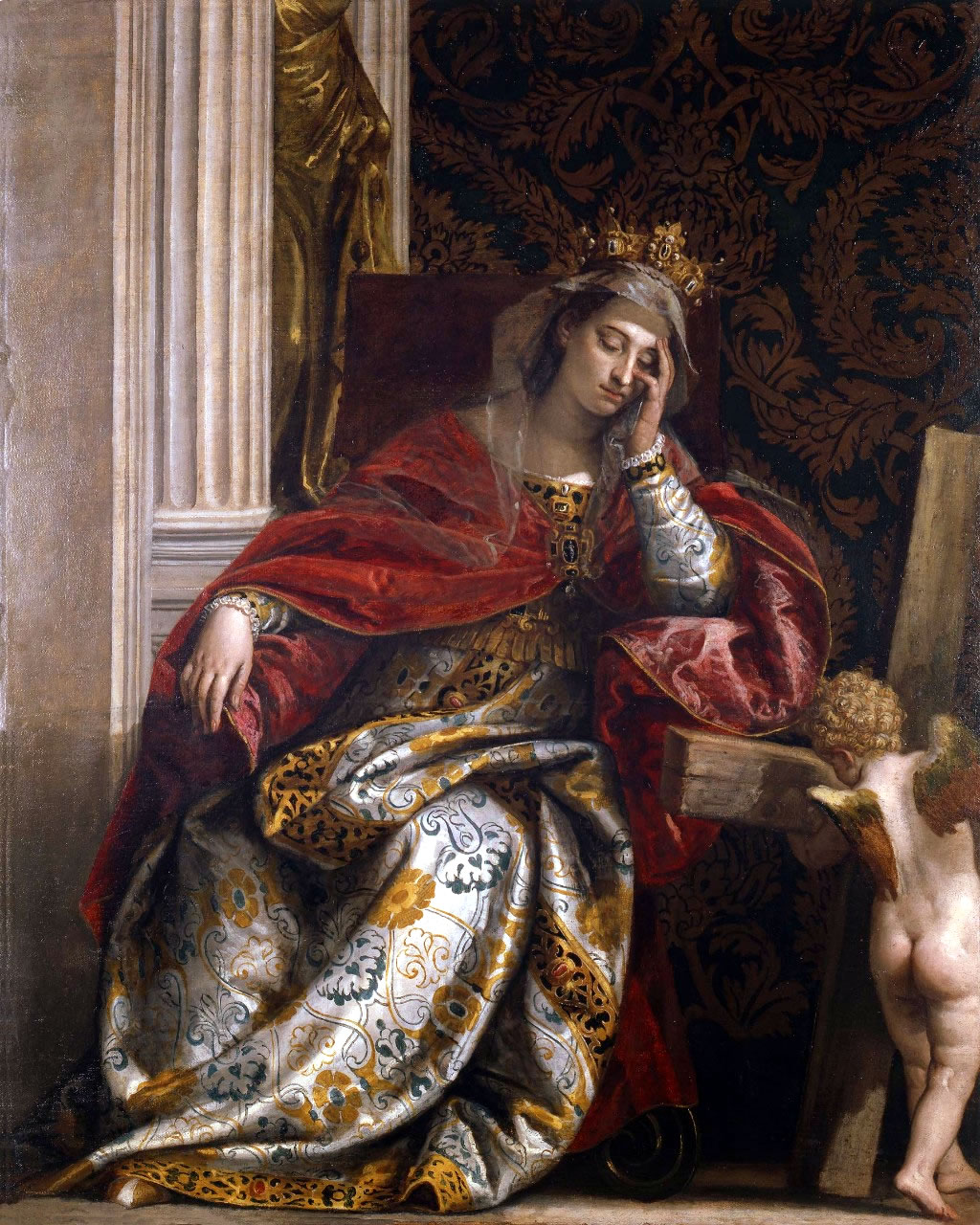 Vision of St. Helena
Saint Helena, the mother of Emperor Constantine, converted to Christianity through his influence. From stories that were told, the cross was lost, but through a vision, Helena found it. From one of the stories that were handed down, she was prompted to go on a pilgrimage to Palestine where, along the way, she performed many acts of kindness such as feeding the hungry, clothing the poor, and helping churches. When she arrived in Jerusalem, she searched for the true cross with the help of locals. She followed the scent of "sweet-smelling dust" and a flash of lightning[1] to a place where she asked the locals to dig. There, they found three crosses; one belonged to Christ and the other two to the two thieves.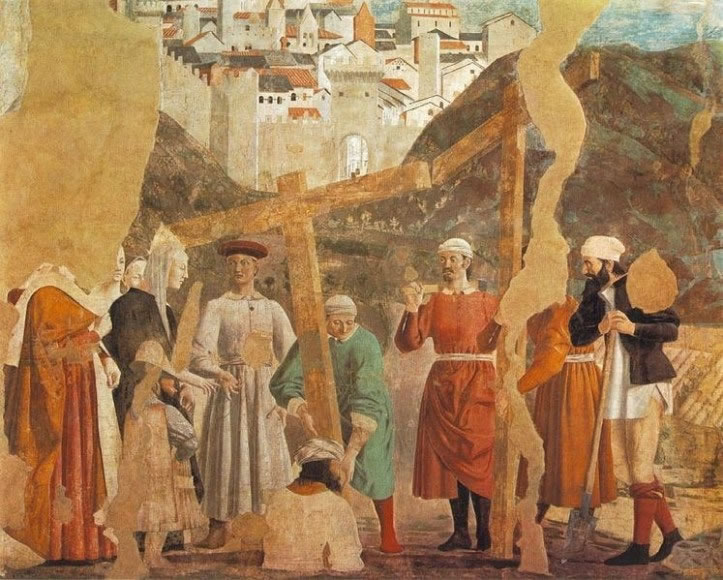 Painting of Piero della Francesca depicting how the curing of a leper revealed which is the true cross.
To identify which one was the cross of Christ, she asked for a leper to be found. When one was found, she asked the leper to touch each of the crosses. When the leper touched the two crosses, nothing happened, but when he touched the true cross, the leper was instantly healed.
In this painting, Veronese shows us a snapshot of St. Helena receiving the vision that led her to find the cross to which Christ was crucified. Veronese paints Helena garbed in royal attire in what seems to be a palace. Her closed eyes and hand on her face illustrate how she has abandoned the glitz and glamor of the world surrounding her to contemplate God, and what he wants of her. It is an example of how the Catechism defines prayer: "the raising of one's mind and heart to God." The fruit of her quiet time in prayer is the inspiration to find the cross that is portrayed by an angelic putti (Italian: chubby, naked child,) on the lower right who shows it to her.
There is a tinge of interior struggle depicted on her brow. This, too, is an indication of prayer for we make an effort to respond to God's call. This is because prayer is always initiated by God. That is, he gifts us with Faith, and prayer is our response to that longing to know him.
Since God is the initiator of prayer, it must mean he has something to tell us. In this context, we must put ourselves in a disposition to listen to him when we pray. Just as St. Helen, we might not hear him through an audible voice, but through the gentle nudging of the Holy Spirit who inspires us to do good things. Prayer, then, is also a covenant for we give our bodies to the Holy Spirit who in turn animates us and assists us with graces. The Holy Spirit even helps us pray, in union with Christ, to the Father.
It is good to have a healthy prayer life for it is there we practice putting ourselves in the presence of the living God. It is an outward sign that we desire to be with God, for isn't this the goal of our entire life: to be in God's presence in heaven for all eternity?
Divers learn to use their SCUBA equipment so they can live like fish in the water. Pilots learn to fly planes so they can live like birds in the sky. We, too, must learn to be in the presence of God so we can live the supernatural divine life he shared with us; and prayer is that place we learn.
---
[1] Barbara Baert, "New Observations on the Genesis of Girona (1050-1100). The Iconography of the Legend of the True Cross," Gesta38, no. 2 (1999): 117-121.
Joby finished Theology courses from the University of Notre Dame. He is a contributing writer at www.catholic365.com, and teaches in the De La Salle College of St. Benilde where he engages students in conversations about religion, pop-culture, and food.